« Ils salivent » (They salivate)
19 min 45, fiction
monté, écrit et réalisé par Ariane Boukerche
produit par TRANSKOM
distribué par EROÏN

Aide après réalisation aux films de court métrage du CNC
(Centre National du Cinéma et de l'Image Animée) 2021
Carte Blanche: AUJOURD'HUI LE CINÉMA
à la CINÉMATHÈQUE FRANÇAISE 51 Rue de Bercy, 75012 Paris
Lundi 15 novembre 2021, 21h00 - Salle Jean Epstein (119 min)
projection d"Ils salivent" puis « La Région Sauvage » d'Amat Esacalante, Lion d'argent à Venise en 2016
La séance sera présentée par Ariane Boukerche
Yann Gonzalez et Jérémy Flaum fileront la métaphore du baiser avec leurs courts-métrages en avant programme à la séance de 19h.
Vous pouvez réserver ici https://www.cinematheque.fr/film/146487.html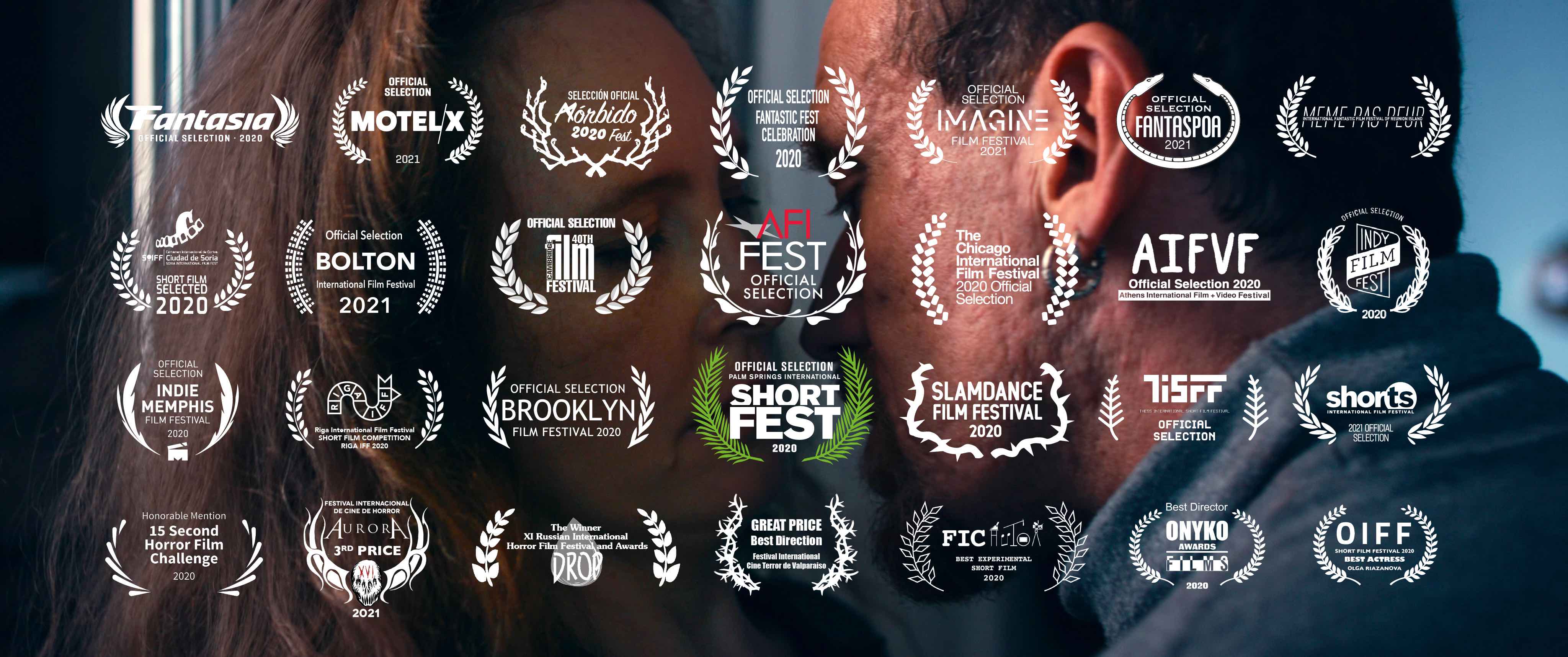 PALM SPRINGS ShortFest 26#
CNC, Oscar, BAFTA, BIFA et Canadian Screen Award Qualifying
SLAMDANCE Film Festival 20#
Oscar, BAFTA et Canadian Screen Award Qualifying
FANTASIA Film Festival 24#
CNC, Canadian Screen Award et Méliès Qualifying
AFI FEST (American Film Institute) 34#
Oscar et BIFA Qualifying
CHICAGO International Film Festival 56#
Oscar, BAFTA et Canadian Screen Award Qualifying
BROOKLYN Film Festival 23#
Oscar, BAFTA et Canadian Screen Award Qualifying
MENTION SPÉCIALE DU JURY
à l'ATHENS International Film and Video Festival 47#
Oscar et Canadian Screen Award Qualifying
CAMBRIDGE Film Festival 40#
BAFTA et BIFA Qualifying
RIGA International Film Festival 7#
European Film Award Qualifying
BOLTON International Film Festival 5#
BAFTA et BIFA Qualifying
FANTASTIC FEST 16#
Méliès Qualifying
IMAGINE Film Festival 37#
Méliès Qualifying
FANTASPOA 17#
Méliès Qualifying
MORBIDO Film Fest 13#
Méliès Qualifying
MotelX 15#
Méliès Qualifying
SORIA International Short Film Fest 29#
Goya Qualifying
TiSFF, Festival International du film de Tessalonique 14#
GRAND PRIX Meilleure Réalisation
Festival Internacional De Cine De Terror De Valparaíso 10# Chili
PRIX DU PUBLIC
DROP Russian International Horror Film Awards 11#
GRAND PRIX Court-Métrage Expérimental
FIC Autor (Author's International Film Festival) 4# Mexique
3ème PRIX
Aurora, Festival Internacional de Cine de Horror 16# Mexique
MEILLEURE RÉALISATION
Onyko Films Awards 1# Ukraine
MEILLEURE ACTRICE
OIFF Short Films Festival 2# Italie
Mention Honorable
15 Second Horror Film Challenge 7# US
MEME PAS PEUR Festival du Film Fantastique de la Réunion 10#
ShorTS International Film Festival 22#
South African HorrorFest 17#
Indie Memphis Film Festival 23#
Indy Film Fest 17#
DC Shorts International Film Festival 17#
LA Femme International Film Festival 16#
The Victoria Texas Independent Film Festival (VTXIFF) 9#
Festival Angaelica 13#
Atlanta Horror Film Festival 15#
Lake County Film Festival 11#
Universal Film Festival 11#
Les Femmes Underground International Film Festival (LEFUFF) 5#
Southeastern International Film Festival 6#
CryptshowFestival 14#
Evolution Mallorca International Film Festival 9#
CRASH International Fantastic Film Festival 12#
O Anjo Exterminador - Brasília International Fantastic Film Festival 3#
Final Girls Berlin Film Festival 5#
Bastalavista International Genre Film Festival 2#
Drunken Film Festival 5#
Gbeck Future Film Festival 7#
Filmfest Sundsvall 4#
Figari Film Fest market 10#
NIF Contest Biella 3#
Festival del cinema di Cefalu 1#
Pune Short Film Festival 10#
Goa Short Film Festival 7#
Kalakari Film Fest 2#
Noble International Film Festival And Awards 1#
Minikino Film Week 7#
Groundbreakers Film Festival 1#
Esto Es Para Esto 4#
Floripa Que Horror! International Fantastic Film Festival 2#
Queen Palm International Film Festival
Rome Independent Prisma Awards 2#
ROFIFE Rotary Short Film Festival 14#
Usak Winged Seahorse Short Film Festival 6#
Reel Love Fest 1#
GazteFilmFest 5#
MIC MUEYO 1#
Festival du Film Fantastique de France 2#
Golden Bridge Istanbul Short Film Festival 1#
Penitente Film Fest 1#
semi-finaliste au Flickers' Rhode Island International Film Festival 24#
et projeté à Les Projos de Greta : Requiem for a kiss
22 septembre 2019 à 20h, Luminor Hôtel-de-Ville Paris
Projection d'équipe à la Filmothèque du quartier Latin le 6 mai 2019 à 20h
Synopsis
« Ils salivent » est l'histoire d'un baiser. Un couple s'embrasse longuement dans leur salon désert. La femme recrache le baiser dans un verre pendant que son mari ouvre aux invités. Ils installent une ambiance festive et dansante. L'un des invités boit dans le verre le dernier baiser du couple.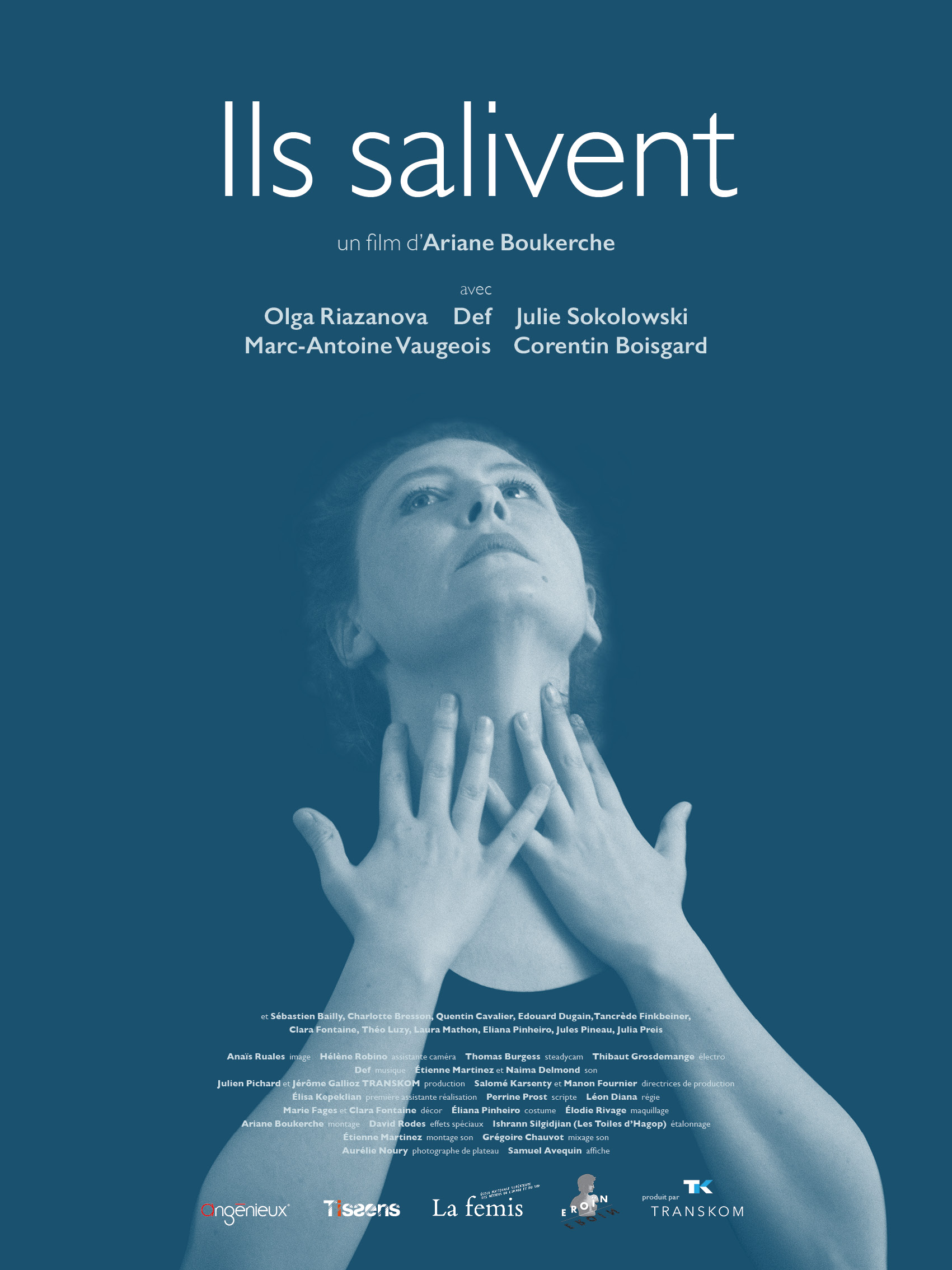 https://geekvibesnation.com/they-salivate-ciff-entry-review-abhorrent-yet-erotic/
Un baiser peut signifier une multitude de choses qui peuvent se cantonner à une simple relation platonique, ou jusqu'à être marqué par la mort, ou simplement apporter la vie. Selon qui livre le baiser et à qui on le donne c'est un geste qui, le plus souvent, est positif et délicieux. La salive est aussi quelque chose de très intime et privée qu'on ne partage pas facilement. Dans le court métrage français "Ils salivent", le baiser est astucieusement utilisé comme une métaphore à la fois odieuse et érotique. C'est un film qui peut être interprété de plusieurs manières, mais quel que soit votre résultat, vous allez grincé des dents. Je n'ai jamais été aussi dégoûté et intrigué à la fois. Le film est quasiment sans voix mais ses actions vous poussent et vous entraînent dans son réseau salivaire de débauche. Racontant l'histoire d'une relation finissante, il est rempli de trahison, de jalousie, de liquides sexués et d'actes impardonnables. Ce court métrage n'est pas pour tout le monde. Bien que son histoire soit exécutée de manière sophistiquée, ses images peuvent devenir dégoûtantes. "Ils salivent" peut être choquant au premier abord mais il doit être apprécié pour sa démarche artistique. C'est définitivement un film qui vous marquera et suscitera la discussion." 
Characters & Chemistry: Avec très peu de dialogue les performances d'Olga Rianzanova et Def sont intenses et provocantes avec Marc-Antoine Vaugeois et Julie Sokolowski ils exécutent cette œuvre d'art complexe.
Dom Fisher
" A couple enjoys the silence in their Paris apartment before starting making out. Why does she save the saliva from the kisses? The doorbell rings and the party guests arrive. When the kiss is consumed by someone else, a chain of events in biblical proportions starts off. Dreamy, fascinating, unforgettable, and maybe even a bit disturbing. This film raises questions about attraction, loss and relationships. "
Andreas Fock
avec
Olga Riazanova
Def
Julie Sokolowski
Marc-Antoine Vaugeois
Corentin Boisgard
et l'aimable participation de
Sébastien Bailly
Charlotte Bresson
Quentin Cavalier
Edouard Dugain
Tancrède Finkbeiner
Clara Fontaine
Théo Luzy
Laura Mathon
Eliana Pinheiro
Jules Pineau
Julia Preis
Ariane Boukerche (écriture, réalisation et montage)
Anaïs Ruales (images)
Hélène Robino (assistante caméra)
Thomas Burgess (steadycam)
Thibaut Grosdemange (electro)
Etienne Martinez et Naima Delmond (son)
Julien Pichard et Jérôme Gallioz / TRANSKOM (producteurs)
Manon Fournier et Salomé Karsenty (directrices de production)
Elisa Kepeklian (première assistante réalisatrice)
Perrine Prost (scripte)
Léon Diana (régisseur)
Marie Fages et Clara Fontaine (décors)
Eliana Pinheiro (costumière)
Élodie Rivage (maquilleuse)

Aurélie Noury (photographe)
Samuel Avequin (graphiste)
David Rodes (FXs)
Grégoire Chauvot (mixage son)
Def (musiques)
..........................................................................................................................................
« Brûlés »
KINO composé de deux films réalisés en 48h
au Kino du Festival Off Courts à Trouville 2016 à Trouville

« Brûlé »
2 min, septembre 2016
et
« Brûlée »
1 min 40, septembre 2016
Festival du Film de Fesses 5# Paris
Festival Ciné Rebelle 2017 Paris
..........................................................................................................................................
Teaser de l'Eidôlon festival 5#
..........................................................................................................................................
« Fantômes »
Réalisé par Ariane Boukerche en 48h dans le cadre du Kino du Festival Off Courts 2015 à Trouville
sélections
Festival Côté Court 2016, Panorama 15 au 25 juin 2016, à Pantin, France
Post Mortem - International Horror and Bizarre short film fest 2016 9# Ã  Mexico
Brand New Blinkers le 18 août 2016 à Londres
Ciné-club de Gouvernes 11#, le 16 avril 2016 en France
Ciné-Club du Perche Rémalardais le 7 juin 2016 à Rémalard en France
Ozark Shorts le 15 Janvier 2016 au Missouri, US
la Nuit du Videodrome le 27 mars 2016 Ã  Londres
Geo Film Festival 2017 Padoue, Italie
Festival de cortometrajes "Jose Francisco Rosado" PACAS 2016 Ciudad real, Espagne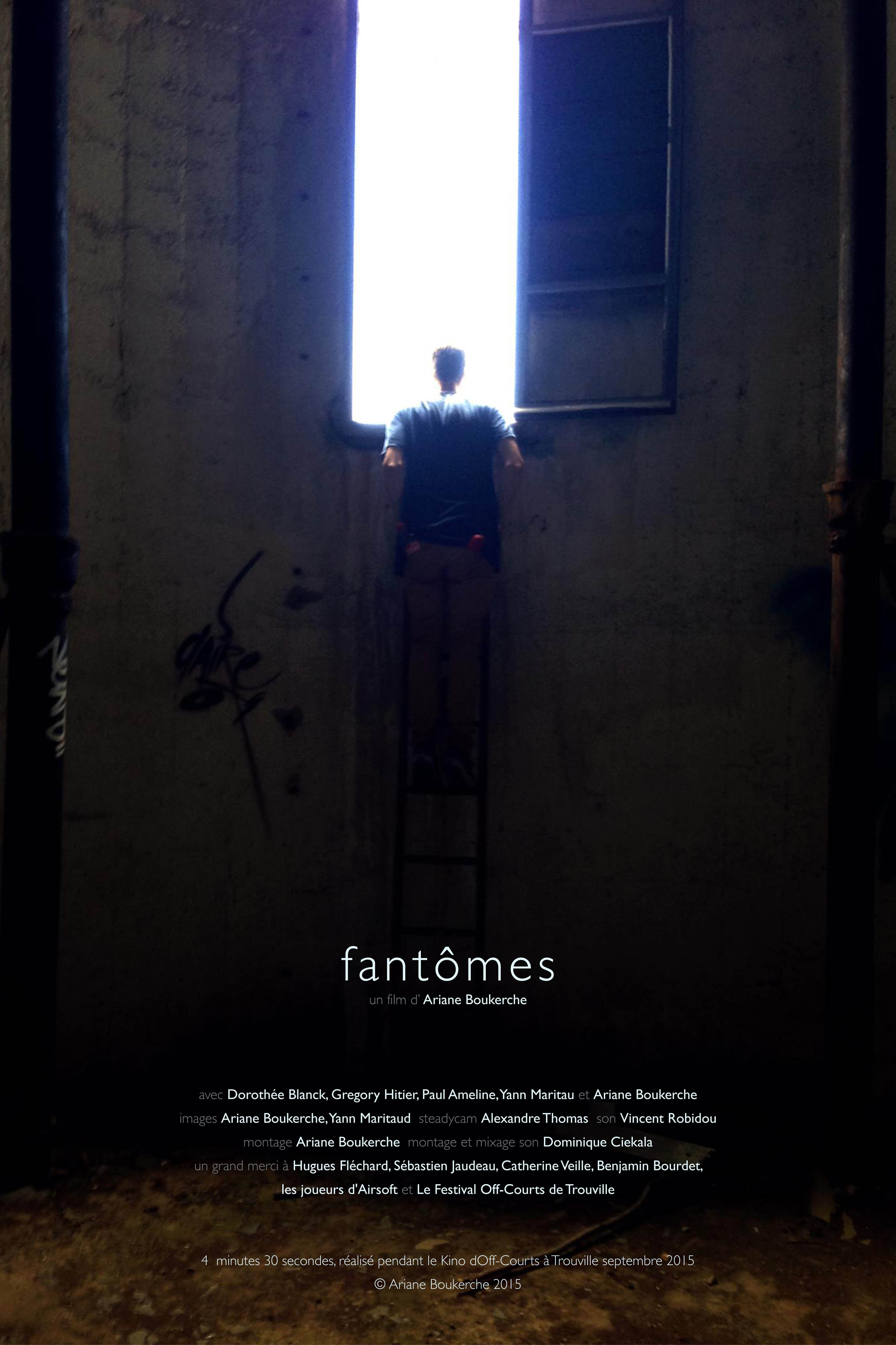 ..........................................................................................................................................
« Alices »
17 min 30 secondes, 2014
Réalisé par Ariane Boukerche
produit par Vincent Fournier, DRAGWAY PRODUCTIONS
visa d'exploitation n° 134 802
distribué par Gonella Productions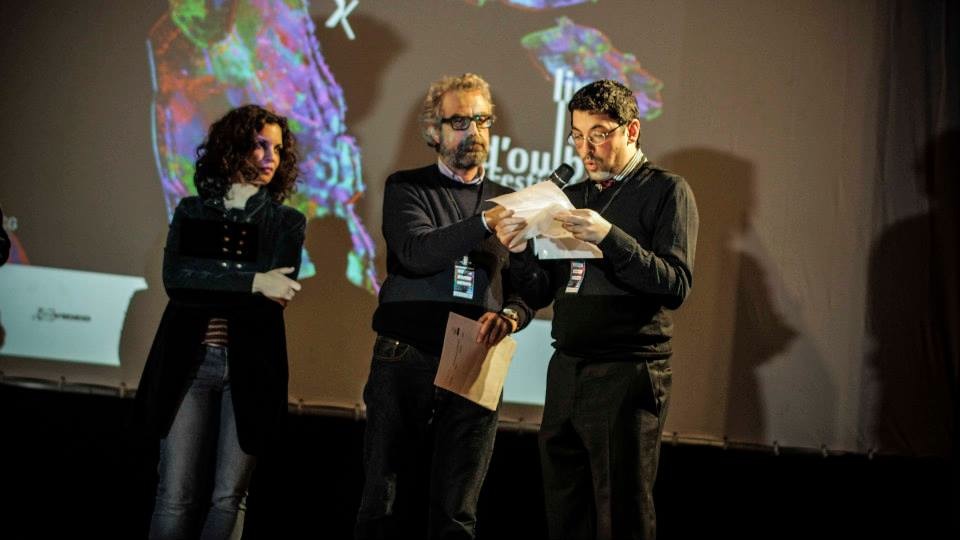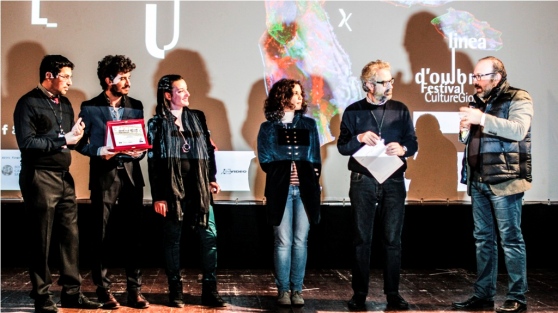 GRAND PRIX "CortoEuropa"
de Linea d'Ombra Festival 19# 2014 Ã  Salerne, Italie
Festival Internacional de Cine de Huesca 42# 2014 , Espagne
Oscar et Goya Qualifying
FICC44 Festival International de Cine de Cartagena 44# 2015, Espagne
International Eurofilm Festival 2016 Ã  Marabella, Espagne
Mosaic World Film Festival 2015 Ã  St. Rockford, Illinois US
Cinemistica 2015 Ã  Grenade en Espagne
CINE UNDER Recife à Recife, Brésil
Muestra Internacional de Videoarte y Video Experimental 2014 Colombie
Eidôlon Festival 2014 à Lens-Lievin, France
Festival de Soueich 2015 Ã  Soueich, France
UnderCannes - Cannes Underground Film Festival 2015 France
Grace Film Festival 2015 Ã  San Francisco, Californie, US
Ozark Shorts 2016 Missouri, US
Ouarzazate International Film Festival 2016 Ã  Ouarzazate, Maroc
Steps - International Short Film Festival 2016 à Lattaquié en Syrie
Free Spirit Film Festival 2014 Ã  McLeod Ganj, Himachal Pradesh, Inde
Ahmednagar International Short Film Festival (AISFF) 2015 Inde
Access Code Film Festival à Bangalore, Inde
Pune Short Film Festival 2014, 4# édition 2014 à Pune, Inde
Short Film Corner de Cannes 2014 France
the From BEYOND online film festival 2015
Viewster Online Film Fest 3# 2015 Suisse
JUMPTHECUT
Short of the Month en mai 2016
Court Mais Bon
hors compétition Festival de Cine y Video del Tec De Monterrey 2014 Mexique

Projection à Paris lors de la soirée Songes d'une nuit d'été
le 21 juin 2014 à La Société de Curiosités, 123 rue de Clignancourt, 75018 Paris
GOSH Cie propose un nouvel événement autour des « Songes des nuits d'été » Elle propose à des artistes de raconter et se raconter autour de ce thème énigmatique des songes, des rêveries et de l'illusion. Cette soirée se veut une exploration dans leurs univers artistiques, dans leurs mondes et désirs. Et de ceux du public. A l'heure où cette Europe se montre en crise et en morosité, proposons des rêveries collectives!
Une projection le 5 avril 2014 à 12h à la Filmothèque du Quartier Latin, 75005 Paris
Une projection le 29 avril à la SACD, 11 Bis Rue Ballu, 75009 Paris.
La Projection est organisée par La Maison du film
"Alices" fait partie d'un programme regroupant plusieurs courts-métrages qui durera une heure environ.
Il sera proposé deux fois: à 19h15 puis à 20h30 avec le bar des auteurs qui ouvrira à partir de 19h30.
Une projection le 3 mai vers 22h, à l'occasion d'une soirée multi-arts organisée par le Palace du Paon 8 rue Bachaumont, 75002 Paris.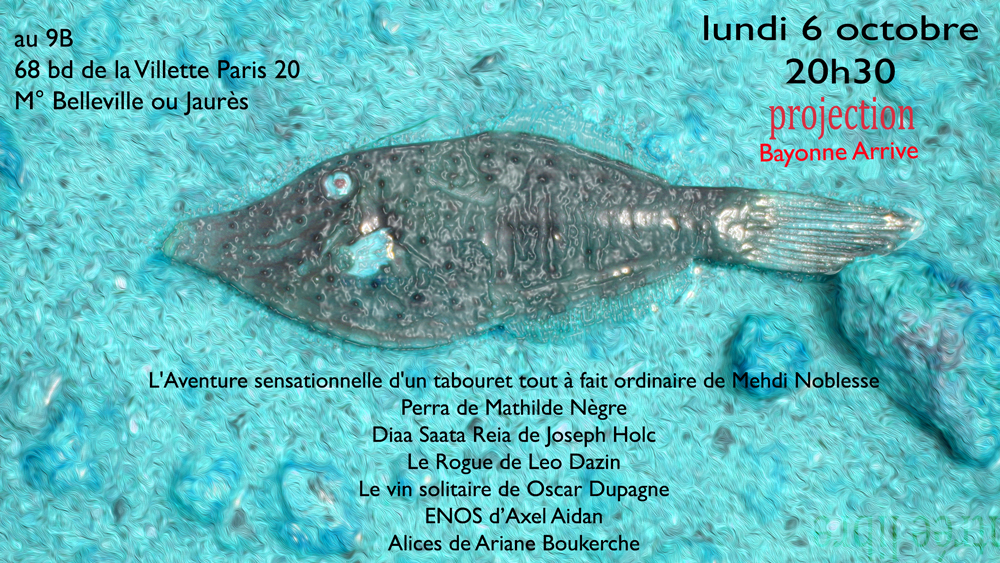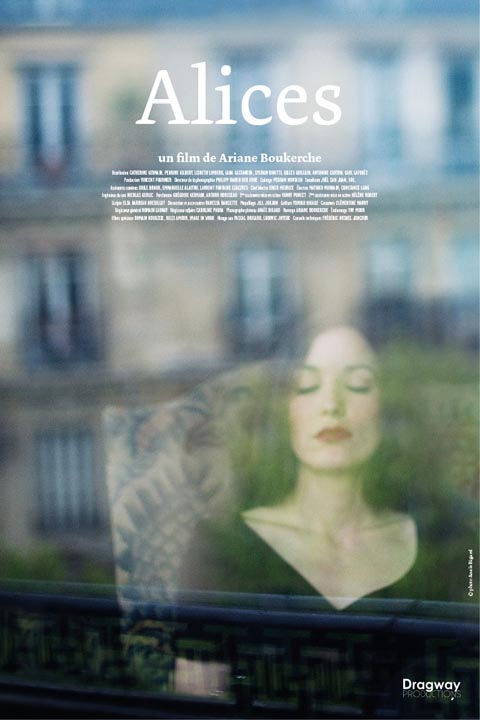 distribution: Catherine GERMAIN, Lisbeth LIMBERG AKA WAGNER, Perrine GILBERT, Lana CASTANEDA, Gilles GUILLAIN, Sylvain BINETTI, Anthoine CARTON, Carl LAFORET
réalisation: Ariane BOUKERCHE
production: Vincent FOURNIER DRAGWAY PRODUCTIONS
directeur de la photographie: Philipp BABEN DER ERDE
cadre: Pedram NOUTASH
opérateur steadycam: Joël SAN JUAN
assistants caméras: Odile BROOK, Emmanuelle ALAITRU, Laurent FONTAINE CZACZKES
chef électro: Erik MEURICE
éléctros Mathieu MORHAIN, Constance LANG
Ingénieur du son: Nicolas GERLIC
perchmans: Grégoire GERMAIN, Arthur ROUSSEAU
1° assistantes mise en scène: Fanny PONCET
2° assistantes mise en scène: Hélène ROBERT
scripte: Elsa BARBEAU BREDILLOT
décoration et accessoires: Vanessa DANSETTE
maquillage: Jill JOUJON
coiffure: Yumiko HIKAGE
costumes: Clémentine MAURY
régisseur général: Romain LAUNAY,
régisseur adjoint: Caroline PARRA
photographe plateau: Anaïs BIGARD
montage: Ariane Boukerche
effets spéciaux: Romain BOURZEIX, Riles Amour, IMAGE IN WORK
étalonnage: Yov Moor
mixage son: Pascal Bricard, Ludovic Joyeux
mixage son 5.1: Zaki Allal
conseils techniques: Frédéric Busnel Joncour
affiche: Samuel Avequin
..........................................................................................................................................
« Les Habits neufs »
Court-métrage
écrit de réalisé par Ariane Boukerche
Produit par Dragway Productions
Pré-production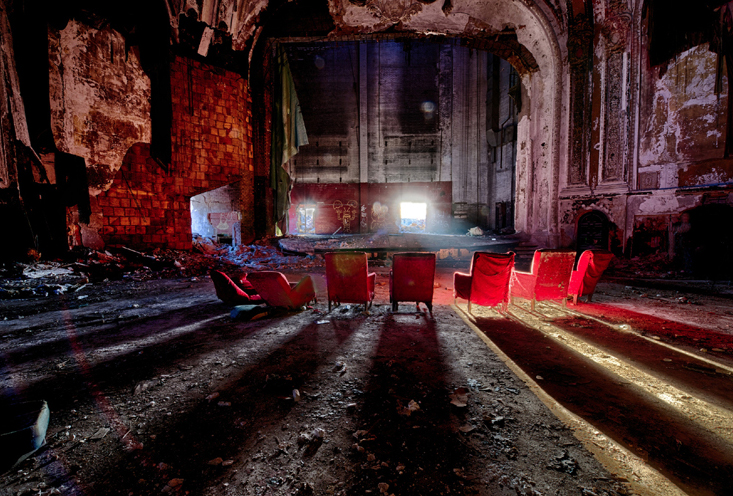 SYNOPSIS
Piégés par le Nain, Julie et Julien se retrouvent coincés dans un vieux théâtre en ruine. Le Nain va essayer de se servir de Julie et Julien pour donner une bonne leçon au peuple du théâtre qui le méprise.